Esme's Top Games of 2011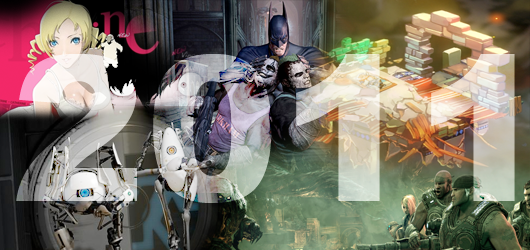 Every year people meditate on all the video games, books, movies, and albums they've sampled, and then compile top number lists to put their favorites in a hierarchy. I'm not usually one for fads, but this process does actually allow us to reflect on the great works of art we've had the privilege to experience this year.
Or people just love lists.
The 2011 year has been generous to us gamers, and I'm here to say thank you.

10. Dead Island
A three-minute trailer created all the hype behind Dead Island, and it was the game everyone had severely high hopes for thereafter. We were all waiting to see if the game was going to be an innovative hit or just another zombie game. Although Dead Island did end up being just another zombie game, it was a fun zombie game. It was enjoyable to whack zombies over the head with paddles and cut them in half with electrified machetes. The game was riddled with odd glitches, but at least some of them made the game funnier. The game was best played with groups of friends, and proved for some good times in a sunny undead apocalypse.
Note on my Dead Island: Riptide review: I couldn't forgive DI: Riptide having the same problems the first installment did. I enjoyed Dead Island for its ridiculousness the first time around, but same formula with same problems equals an unsatisfying experience for me.
09. Catherine

The gaming community has a strong voice, because it was thanks to you all that I found out about Catherine. Catherine seemed odd at first, but the more I learned of it (and her), the more intrigued I became. When I was finally able to get my hands on the game, I was introduced to a bizarre love triangle and even stranger nightmares that I fought through in my underwear. The game was both frustrating and captivating, and I was glad I gave it a chance. Plus, I learned I'm destined to marry a four-eyed short-tempered brunette.
08. Bastion (Xbox 360)

The Kid didn't know what had happened at first, he was all alone. He soon realized the Calamity had hit, and he had somehow survived. He found a few survivors, and set out on a mission to recreate the world using the Bastion and the Cores. As the game progresses, the player finds out more about the world the Kid lived in, and helps the Kid fight his way through enemies. Bastion is a versatile and fun experience, with a fantastic soundtrack and collapsing world proving to be a great journey.
07. Assassin's Creed: Revelations
Who doesn't have dreams of becoming an assassin and jumping off buildings into perfectly placed haystacks? Is it just me? This game was fun, even for an Assassin's Creed newbie like myself. It's easy to follow after reading some of the back story, and with the arsenal of weapons at your disposal, you can wreak havoc where havoc needs to be wreaked.
06. Saints Row: The Third
"No one man should have all that power." That lyric applies to the entirety of Saints Row: The Third, considering the amount of acts you can do in the name of the Saints. It's an outrageous game that lets you do whatever you want, and you truly feel like you rule the streets of fictional Steelport by the end of it. From causing city damage with tanks to cruising in a car with a tiger, this game offers anything your heart desires. And you can look like a badass doing it all (or a nun, if you prefer).
05. Gears of War 3 (Xbox 360)
The ending to the Locust and Lambent war was finally upon us, and it was time to take charge of Marcus and his crew one last time. The campaign was entertaining, but it was horde mode that truly made it a great pastime. Wave after wave brought about smiles and sighs, and it was ever the more satisfying when you finally made it through to the end. Gears of War 3 helped a great deal with those last grueling hours of Extra Life too.
04. Uncharted 3 (PS3)
This list has quite a few threes already, but I had to include Drake's latest adventure. The game dropped us into another one of Drake's dangerous feats, and even introduced us to Drake's past as an orphan. Although the enemies in this game weren't as prevalent and supernatural compared to the last two games, the environments Drake traveled to provided plenty to gawk at and plenty of enemies to shoot at.
03. Batman: Arkham City
What Rocksteady managed to do with the Batman franchise is glorious, and I just hope more superheroes get the same delicate treatment. The game is outstanding from the word "go," and the side quests provide as much fun as the main storyline. The fighting system of the game is simple and gratifying, but it does take some skill to master. All the villains they managed to fit into the game is remarkable, finding a good balance that felt neither excessive or cheeky.
02. Portal 2

Wheatley, that lovable core. That's all that could be said about this wonderful title to make it a GOTY contender. You're given a witty tour guide to walk you through the walls of Aperture, and what ensues over time is great storytelling. Portal was already known for having a fabulous character turned murderous machine like GLaDOS ("Remember that we pretended we were going to murder you?" "It's been a long time…"), and now with Wheatley it was nothing but laughs. The game's ending is phenomenal, and the mechanics of the game itself are brilliant. A clash between a shooter and puzzles, providing both frustration and joy. The co-op was just icing on the cake, and I love Valve for introducing me to the Portal universe.
01. Mass Effect 2 (PS3)
This seems like a bit of a cheat right? But this year was the first time I ever experienced a Mass Effect game, and I'm so sorry for waiting so long. The game had me enthralled from the very beginning, and I made sure to follow through with every mission available. I can't wait for the end of the world, a.k.a. Mass Effect 3, where it all comes to a close and we get to experience Shepard's final battle with the Reapers.
Honorable Mentions
Halo: Combat Evolved Anniversary, Mortal Kombat
——————
These are my top games of the 2011 year, although I'm sure you're wondering where Elder Scrolls V: Skyrim is. The simple answer: I have yet to play it, but I'll try to rectify that soon enough.
Here's to 2012, bring on the games!